Since the Video Gaming Act became law in 2009, the Illinois Gaming Board (IGB) has allowed more than 6,600 Illinois establishments to offer video slot machines (also known as video gaming terminals, or VGTs) to their patrons. Multiply that by 1-6 VGTs per location, and you get a sense of the sheer size of Illinois' video gaming industry that is regulated on a daily basis by the IGB through a robust set of standards. In addition to the IGB, each municipality can also have its own set of regulations specifically relating to gaming. One area of the industry that is particularly regulated by each municipality is the marketing of video gaming.
Marketing Restrictions
In an industry that can feel saturated at times, slot machine marketing plays a key role in driving traffic to your slot machine business. Some towns do not allow signage at all, while others allow it but restrict the location, size or design of signs. Many municipalities have general signage guidelines, but some specifically address video gaming signage. Here are just a few examples of municipal signage bans and/or restrictions. Do you have a location in one of them?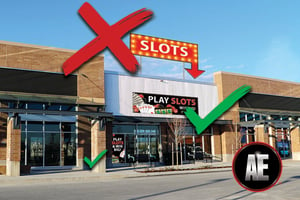 Algonquin
Signage for VGTs must be approved and shall conform to the Village's signage requirements. Prohibited signs include advertising flags (except for grand openings), back-lit awning/canopy/marquee signs, building decoration that exceeds 10% of the height or width of the building, signs that are flashing, inflatable, moving, obsolete, off-site, pennant, portable (unless provided in the Code), projecting, signs that extend above the roof line (except for a mansard roof sign), pylon, pole sign, painted signs, signs attached to chimney, fence, fence-type wall, retaining wall, bench, fence post, refuse enclosure, utility box, storage shed, bus shelter, or signs that expose exterior neon tubing and/or exposed light bulbs.
Beach Park
No signage advertising the availability of video gaming is permitted.
Belvidere
Temporary Signs: Seasonal banners, pennants and display boards are limited to one temporary sign up to 200 feet of linear road frontage. One additional temporary sign is allowed for each additional 200 feet. One additional temporary sign is allowed for a lot that supports more than one business. The maximum size is 32 square feet. Prohibited signs: signs which obstruct the vision of drivers or pedestrians or detract from the visibility of any traffic control device. Permits required for signs.
Morton Grove
No more than one lighted and one unlighted exterior sign or interior sign visible from the exterior of the premise that advertises the presence of video gaming. Such total signage may not exceed 10 square feet.
Peoria
The following signage is prohibited: signs which move, flashing or running lights to create the illusion of movement, signs which imitate traffic signs or use the words "stop," "look," etc., portable or wheeled signs, signs placed on a parked vehicle or trailer, a sign in a residence district exceeding a height of 3 ½ feet above the street grade within 12 feet of the intersecting street lines bordering a corner lot, a sign in any nonresidential district within eight feet of the intersecting street lines bordering a corner lot, wall, roof, projecting or stacked off-premises signs, murals or structures with solely a single-family or multi-family residential use/structure and associated accessory structures in residential districts.
West Dundee
No reference to video gaming or video poker is permitted for any permanent freestanding, surface mounted or window signage for any licensed establishment. Video gaming references are permitted for temporary window signage at no more than nine (9) square feet per commercial frontage. All other temporary sign provisions are restricted from including any references to gaming, video gaming or video poker.
Woodstock
No video gaming signage or advertising of any type or size, including, but not limited to, posters, paper signage, fliers, neon signage, banners, video or audio feed, or any other form of advertisement, shall be allowed on the exterior of the licensed establishment or on the inside of such establishment if such signage is visible from the outside in any way including, but not limited to, visibility through any window or door areas facing the public way. Temporary exterior permitted signage would be exempted for a business within sixty (60) days of initiation of a city of Woodstock video gaming license.
Didn't see your municipality on this list or need further clarification on any listed above?
Before deciding to do ANY kind of signage, especially signage advertising your video gaming business, be sure to do a thorough investigation of what your specific municipality requires. Learning about what kind of signage is allowed and whether any permits are required is imperative to staying in compliance with your local laws. Be sure to reach out to your Relationship Manager with any questions!