Everybody knows the official color of St. Patrick's Day. Wear something green or risk getting pinched! Sip green beer (or a Guinness) and enjoy a raucous day among friends and strangers alike. Bar owners know that St. Patrick's Day also signifies another type of green: extra revenue brought in from crowds of thirsty patrons wanting to be entertained!
There are obvious financial benefits to advertising your establishment's St. Paddy's festivities. Make sure you start promoting early. Cheery little four-leaf clovers and Irish flags start to appear everywhere right around mid-February and intensify all the way until the big day: March 17th! It falls on a Saturday this year, so the crowds are sure to be out in full force.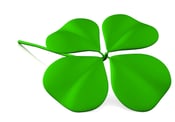 St. Patrick's Day in the United States is primarily celebrated with traditional Irish fare such as corned beef with cabbage, and of course, drinks! A little drop of green food coloring will turn any light-colored beer (such as pale ale or wheat) a lovely shade of emerald. Bar owners often advertise St. Patrick's Day specials on festive drinks such as cheap green beer or Irish themed shots (a shot of Jameson, floated over Bailey's, and dropped into a pint of Guinness).
Establishments interested in going all out for the holiday can incorporate a plethora of entertainment options. Bars and pubs around Chicago have been known to hire local bagpipers or Irish step dancers to perform within their establishment. Any programming outside of your usual business model obviously takes some time and effort to coordinate, however the payoff can be substantial!
If live entertainment is possible at your venue, start contacting people as soon as possible to ensure you can secure talent in time! You can put an ad on a job board such Craigslist, or work with local Irish organizations who might have connections.
Not able to swing live entertainment this year? No worries! As far as music, TouchTunes can be a great, affordable way to set the mood. If your guests are into more contemporary music, Dropkick Murphy's, Flogging Molly, and The Tossers (local to Chicago) are all Celtic style rock groups that pack a punch. Or play some traditional Irish music by The Dubliners, The Chieftans, or The Irish Rovers. Guests can also use the TouchTunes app to request their own songs.
Make sure any VGT units are easily accessible and ready to go for the holiday, too! They are a big draw for folks that might be hanging out for a while and craving entertainment. Irish themed slot games are obviously a good thing to advertise (download FREE graphics here to promote those games)! Strategically placed leprechaun and pot o' gold decorations around the machines are a good way to draw extra attention to the gaming area of your bar!
Again, lots of the patrons coming out for St. Patrick's Day are primarily seeking to dine on traditional Irish fare and imbibe. In addition to food & drink specials, you could also request that your employees dress in green for the occasion. It is wise to have some festive flair on hand for your bartenders should they forget to dress up, such as beaded necklaces, headbands, or temporary shamrock tattoos. These goodies can be bought in bulk online (like on Oriental Trading) and also passed out to guests.
Think of it this way: if folks are already looking to do something 'festive' for St. Paddy's, how can your business stand out amongst the sea of options? Incorporating specials and entertainment outside of your normal offerings is one way to reach clientele looking to spend money going out for the holiday. If you play your cards right, there may be a pot of gold waiting at the end of the rainbow!