We're thrilled to announce the first of many sweepstakes to come for Accel locations. The AE Summer Sweepstakes kicks off today at participating Accel locations. Participating locations will be listed at aesweeps.com beginning today, August 1st through midnight on September 1st. Patrons may enter at as many participating locations as they wish once each day on a tablet located within the establishment. At the end of the sweepstakes, 50 randomly selected entrants will win $500 and of those 50 finalists, one will have a chance to win $25,000! It's our biggest giveaway yet - and only Accel locations have the opportunity to see one of their customers win!
---
Want to learn more about our 2019 giveaway? Discover more at our new website aeplayer.com!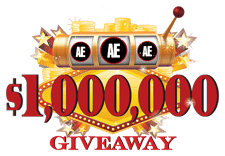 ---
So, you might be asking yourself - why are we doing this? What's there to gain from giving away $50,000? Our answer is simple: making our partners and players happy! It's our number one goal.
"We are very excited to give our partners throughout the state of Illinois an opportunity to increase foot traffic and create an exciting buzz for our players," said CEO Andy Rubenstein. "This is the first of what we hope to be year-round promotions, the likes of which the Illinois slot machine community has never seen before."
We hope you've made the decision to participate in the AE Summer Sweepstakes. If not, we'd love to have you join us for the next big giveaway this fall.