It's inevitable that you will face changes in your business at some point in time. It's imperative that you know what kind of information is necessary to report to your slot provider (or as we say in the biz, Terminal Operator). Your Terminal Operator will then report that to the Illinois Gaming Board (IGB), to avoid a fine or risk revocation of your Illinois gaming license.
Here is a list of events that must be brought to the attention of your Terminal Operator and the IGB:
Illegal gambling at location. This includes unlicensed or illegal raffles, sports betting including squares or brackets, poker or other card games played for money, or machines not sanctioned by the IGB.
Adverse action taken against liquor licenses. This includes citations or revocation of a license by the State or local municipality. Even if your liquor license is suspended for a brief period of time, you must report this. If your licenses expire, your Terminal Operator can assist in getting them up-to-date.
Expiration of municipal gaming license. Similar to liquor licenses, keep your Terminal Operator updated on any adverse action or expiration of your local gaming licenses (if they are required in your municipality).
Change in ownership, video gaming manager, or officer(s). Officers of a veteran or fraternal organization change regularly, but this category also applies if all or even part your business is sold, you bring in new partners, or you have a change in corporate structure (i.e., sole proprietorship to corporation).
Death of any individual listed on the IGB application. There are many required updates if this occurs (potentially including updates to your liquor license and Secretary of State information, etc.), and if the individual was included on your IGB application, you will need to promptly disclose this information to your Terminal Operator.
Location sale, eviction, or closures (whether temporary or permanent). Pretty straightforward with this one, but if you have any questions at all, do not hesitate to reach out to your Accel Relationship Manager ("RM").
Break-in, fire, natural disaster, etc. We surely hope nothing happens to your location, but if it does, please let your RM know. Accel deeply cares about each of our partners, and we also need to be able to assess any damage to the slot machines.
Criminal charges against any individuals listed on the IGB application. If any individual listed on your IGB application is arrested, charged and/or convicted of any offense (other than minor traffic offenses), you need to update your Terminal Operator immediately.
Legal business name changes. Whether you change your corporation or DBA name, please update your RM. Failure to update IGB in a timely manner could result in a fine.
Name changes of any individuals listed on the IGB application. Just like in the last event, name changes for individuals listed on the IGB application must be reported (due to marriage, divorce, etc.).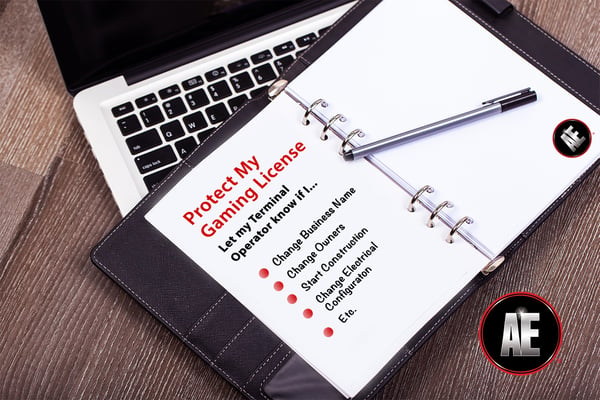 Your gaming business is highly regulated by the IGB, and as an IGB licensee, you're required to keep the IGB updated on any changes to the information disclosed in your application and to your business. It's best to be completely honest (even if it seems minuscule). The more information you provide, the less risk you run of incurring a fine or a license revocation. We are here to help, and can assist in getting your information disclosed to the right people.