If you've ever wondered what it takes to start a slot machine business, you've probably asked yourself what types of businesses can legally have gaming. Here's an overview of the four types of licensed establishments legally allowed to operate in the state of Illinois, as laid out in the Video Gaming Act.
1. The Basic "Licensed Establishment"

This is defined as any retail establishment "where alcoholic liquor is drawn, poured, mixed, or otherwise served for consumption on the premises." Essentially, this refers to gaming parlors, bars and restaurants that serve any kind of alcoholic beverages to patrons to consume on site at the location. Sometimes, locations will have a "combined" liquor license, which means they allow consumption on the premises, but also allow "to go" purchases of alcohol. As video gaming has gained popularity, we have seen a variety of establishments obtain a liquor license in order to qualify for video gaming that you would not normally think of as the types of establishments to serve alcohol for consumption on site, such as gas stations and smaller eateries.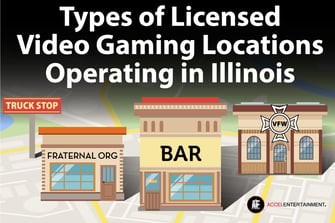 2. The "Licensed Fraternal Establishment"
Defined in the Video Gaming Act as "a location where a fraternal organization that derives its charter from its national parent organization regularly meets." This can refer to your local lodge of the Elks, Lions and other nationwide civic organizations that may or may not be named after large mammals.
3. The "Licensed Veterans Establishment"
This refers to any site "where a qualified veteran's organization that holds a charter from its national parent organization regularly meets." Veterans of Foreign Wars halls and American Legion posts, in other words.