Looking for some creative ways to get female patrons through your door? We've put together a list of four ideas to get you started – most of which need little legwork on your part! The most important thing you'll need to focus on is hiring the vendor to put on the event and marketing it right. Facebook is a fantastic way to market these kinds of events because of its versatility (if you're new to social media, check out our free guide to get started).
Check out these fun event ideas that can help increase traffic to your video gaming establishment:
Paint/Pallet Parties
You might have seen advertisements for businesses that host painting or pallet nights. You can easily host one of these events at your own establishment by hiring someone to bring the party to you! Vendors will usually provide an artist to teach the class, as well as tools as a part of their fee: brushes, canvases, paint, etc. The artist will walk attendees through painting designs that are typically geared toward beginner painters, but even experienced ones will enjoy their time.
Things to keep in mind:
Make sure you have the space to set-up easels and chairs (either as standalone or on a table/bar). If you want to keep this event semi-private from your other patrons, take that into consideration when designating a space for painting.
Prevent any cleaning nightmares with drop cloths and the ability for participants to wash their brushes and their hands without leaving the designated painting area.
Take pictures of the event to post on social media and show off participant's artwork in your establishment after the event to market future Paint and Sip parties.
Plant Night
As spring (slowly) approaches, bringing in a gardening expert is a great way to draw groups of women for a girl's night out! Similar to a painting party, the plant night is hosted by an instructor, who provides the materials for participants (check out https://www.plantnite.com/ to host one at your location). Each individual will create a tabletop garden, while sipping cocktails and spending time with friends.
Things to keep in mind: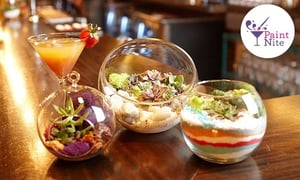 Set up a separate area for food, since gardening can make a bit of a mess.
When marketing the event, make sure to indicate that all are welcome (even those without green thumbs).
Offer drink and food specials when the event is over to keep the party going.
Mom's Night Out
Let's face it – Moms deserve a day/night and they are usually the least likely to take advantage of the opportunity. Put yourself in a mother's shoes: she probably doesn't have a lot of time to spend on things like massages, manicures, etc. Consider bringing in a masseuse or a nail technician to provide these services for a small fee (or sell tickets prior to the event that include all services). Put some funny movies on (Bad Moms, perhaps?) or make a TouchTunes playlist specifically for the evening.
Things to keep in mind:
Plan your event during a day and time that works for Moms (this might include Friday evening, Saturday afternoon or Sunday during brunch).
Market early enough so that participants can make child care plans if they need to.
Vinyasa and Vino/Barre at the Bar
Fitness and alcohol might not seem like a dynamic duo, but these events are popping up everywhere! The idea here is to bring in customers for a yoga class (or barre, which is a mix of Pilates, dance, yoga and functional training) and serve a glass of wine, mimosa or any other drink of choice after the workout. Breweries are jumping in on the trend as well, which is a great way to possibly bring in new clientele that might not have considered going to a brewery to hang out before.
Things to keep in mind:
You must hire a certified instructor and check their certifications.
Ensure your instructor carries liability insurance in case of the unlikely event of an injury. You might also want to consider having participants sign a liability waiver (you can consult with the instructor or an attorney on this one).
Consider providing mats, water bottles or mini goodie bags branded with your logo. You can also promote food specials for those sticking around for their post-class drink, so they stick around even longer!
If you consistently hold events like this at your establishment, you're likely to see repeat customers (and hopefully their friends). Remember: promotion is key, and can also be free! Use social media to share your events, and you may see your fans inviting their friends, which extends your audience reach.