In order to keep up in the competitive bar and restaurant and/or Illinois gaming industry, it is important to take a creative approach when it comes to advertising your bar. There are a variety of traditional and non-traditional marketing ideas you can chose for your business. Both approaches are necessary for reaching your target customers. Non-traditional tactics, such as social media and event planning, are gaining popularity, but traditional marketing such as outdoor signage is critical for getting people in the door.

Window Decals
One of the most popular outdoor signage techniques that gaming establishments use are window decals. These types of decals are custom made to size and design specifications for a business. Window decals are a great way to communicate that a location has gaming inside. Aside from aesthetic purposes, these types of decals can also have a practical use for establishments. Window decals can provide privacy for the gaming room or showcase gaming and establishment hours.
Feather Flags
Another outdoor sign type to consider is feather flags. Feather flags promote your business and catch the attention of potential customers driving by. These flags are very simple to set up and can be placed virtually anywhere including hard surfaces, like the parking lot of your establishment, the sidewalk near your front doors or even in the grass alongside the road parallel to your location. Compared to other outdoor signage, feather flags are very inexpensive. This makes it easier to purchase several of them so you can disperse them throughout the location's property. Before purchasing feather flags for your location, it's important to check in with your municipality to ensure there are no restrictions against them.
Backlit Signs
Backlit Signs are also very popular among many of our establishments and are a great way to promote gaming. Like window decals, these signs can be customized to a business's unique size and needs. Many of our locations like to feature the name of their establishment as well as their logo on their backlit signs. Including references to gaming informs customers where they can find slot machines. Although backlit signs are a bit pricier, they are definitely a favorite among our establishments because they are visible day and night. When purchasing a backlit sign, we highly recommend checking in with your location's municipality to obtain the proper permitting before getting started. Many villages have different rules, regulations and procedures when it comes to adding backlit signage.
Banners, A-Frames and Metal Signs
Other outdoor signage options you may want to consider include banners, a-frames and metal signs. Banners and metal signs are great alternatives to backlit signs as they tend to be much less expensive. A-frames are also a great way to promote your establishment, especially if they can be placed in a location where there is a lot of foot traffic. When it comes to outdoor signage, the possibilities are endless, we encourage you to be creative!
Outdoor Signage at Accel Locations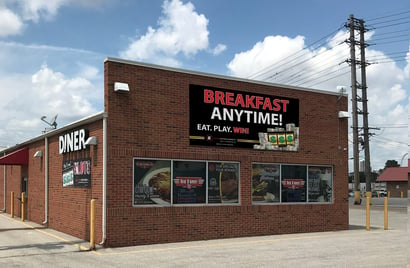 Accel's marketing team works on many outdoor signage projects along with Accel locations to add slot-focused promotions to their marketing. At the moment, the team is working on revamping outdoor signage for The Diner, Pop's Night Club and Phillips 66 Rte 203 Mart in an attempt to attract new customers.

At The Diner, we are in the process of installing a new banner for the front of the building visible to people driving by. Not only does this banner promote Accel Entertainment, it also lets customers know that The Diner serves breakfast at any time of the day. Our goal is to encourage all breakfast lovers (and non-breakfast lovers) driving by to stop at The Diner, enjoy a cup of coffee and try their luck at our games.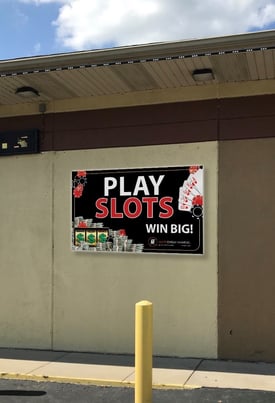 We're also working on a project with Phillips 66 RTE 203 Mart, a gas station, to add a backlit sign that will promote Accel and our games. This backlit sign will be installed on the front of the building so that it is visible to all customers while they are pumping gas. Gas stations are typically considered to be a non-traditional spot for gaming, so we think it's important to let our customers know that after they fill up on gas that they can go inside and play the slots.
The third location we are working with is Pop's Night Club. In the past we've added indoor signage to promote their gaming room and are now in the process of adding to their outdoor signage. Out front at Pop's is a large billboard that reads "Pop's Night Club." We are assisting this location to redesign the billboard so that it promotes the night club as well as Accel and our games. We are in the very early stages of this redesign, but we are very excited to work with Pop's in helping them with their outdoor signage marketing strategy.
Depending on what messaging is featured – and whether or not a location itself is advertised – will affect whether Accel can contribute toward signage. Accel is always happy to help you with your signage and marketing strategies so please feel free to reach out to us!