At some point, as a business owner, you will come across the need for a trade or professional association. Whether it's for education, networking or advocacy, associations provide a plethora of resources to support your business' demands. These three organizations are a great place to start if you're new to the Illinois gaming market or the food and beverage industry.
For all things video gaming related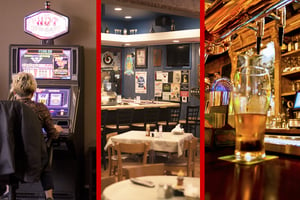 The Illinois Gaming Machine Operators Association's (IGMOA) membership includes gaming manufacturers, distributors, Terminal Operators and suppliers that are either in the process of being licensed are or have already been licensed by the Illinois Gaming Board (IGB). The IGMOA "continues to educate legislators & the public about the positive results of Video Gaming, while also protecting the long-term health of the industry by fighting for strong & smart Regulation." Although the IGMOA primarily caters to the companies that make gaming available to video gaming locations, the locations themselves can also benefit from available resources.
In addition to the education the IGMOA provides, there are a few events throughout the year that are a perfect opportunity for networking. To find out more information on upcoming IGMOA events, visit http://igmoa.org/events/.
For all things liquor related
Illinois Licensed Beverage Association (ILBA) is dedicated to promoting and protecting businesses that serve or sell alcoholic beverages. There are over 2,500 members of the ILBA, which include business owners of taverns, restaurants, fraternal clubs, package stores, bowling centers, golf courses, hotels, gas stations, convenience stores and grocery stores, according to their website. It makes sense that the ILBA would be a great resource for Illinois video gaming establishments.
The ILBA also offers education and training for BASSET certification, Illinois Food Handler certification, as well as regulatory updates. If you're looking for more information at a national level, the ILBA links to the American Beverage Licensees website, which also includes education, events, training, and advocacy information.
For all things restaurant related
Illinois Restaurant Association (IRA) is another great resource for gaming locations that also serve food. In addition to required food and beverage certifications, the IRA provides timely updates on compliance related topics and industry news.
If you're looking to network with the best of the best in the food industry, consider attending one of the IRA's prestigious events throughout the year (the list of events includes the James Beard Awards, Taste of Chicago and Chicago Gourmet). You certainly won't have to worry about a lack of good eats at these events!
The IRA Buyer's Guide can be a great tool to search for product and service suppliers to meet your business needs – food, liquor, equipment, security, and credit card processing (just to name a few).
Which associations have you used as a resource?