When the Illinois Video Gaming Act first became law back in 2009, it provided for certain traditional establishments to qualify for video gaming – bars and restaurants with a liquor license, fraternal and veteran organizations, and truck stops. However, in recent years, the industry has seen a rise in non-traditional gaming locations, many of which Accel has been very excited and proud to partner with. A few examples of non-traditional gaming locations include: convenience stores, liquor stores, hotels, grocery stores, bowling alleys and coffee shops. As long as these locations have a license to serve alcohol on their premises, they have the ability to qualify for a video gaming license with the Illinois Gaming Board (IGB).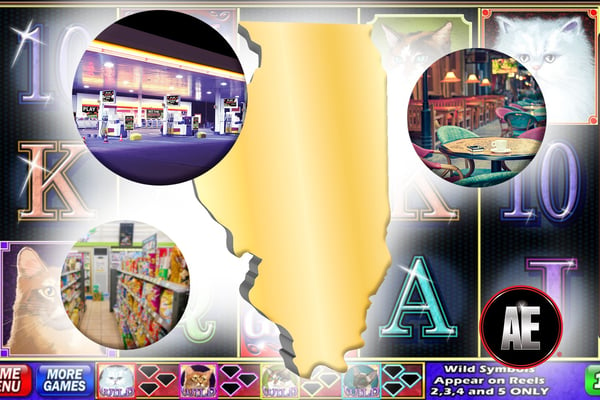 Here are a few examples of our non-traditional establishments that have video gaming:
Convenience Stores / Liquor Stores
Accel would categorize a convenience or liquor store as an establishment where the primary business is selling items of convenience and/or beer, wine and liquor (pretty self-explanatory there). In order to obtain a license from the IGB, these locations must have a separate gaming room with space for seating as well as an on-premise pouring license. You may be asking why this would be considered a non-traditional gaming location. Typically, when you think of a trip to a convenience or liquor store, it's to pick up your favorite bottle of wine or to grab a quick snack right before a long road trip. Most people don't visit these stores with the primary intention of spending their spare time there. Both stores are typically already required to have an on-premise pouring license, so the transition to providing gaming isn't too large of a leap. People may simply be visiting the establishment to purchase items from the store and once in the door, they might decide to try their luck and sit down at one of the machines before making their purchase. Gaming can change the landscape of these types of stores, creating a player base that wants to spend time at the establishment.
Hotels
Just like convenience and liquors stores, guests staying at a hotel don't typically check in solely because they are feeling lucky and want to try their hand at the slots machines. However, guests at a hotel are more likely to have spare time spent on premise – whether they are there for work or vacation. Most hotels are already equipped with some sort of bar or lounge requiring them to have an on-site liquor license, so adding VGTs could potentially be a very profitable asset to the establishment.
People love their coffee! And some people also enjoy delicious coffee concoctions mixed with liquor, like an Original Irish Coffee, mixed with coffee, Bailey's Irish Cream, and a splash of Whiskey. In order for a coffee shop to serve these creative cocktails, they must have an on-site liquor license. What better way to catch up with an old friend than to meet at your favorite coffee shop, sip your favorite drink, and win some money!
Coffee Shops
If you're thinking of starting a slot machine business, you don't necessarily have to open what would be considered a traditional bar or restaurant. As long as your business meets the right criteria, it could become a gaming establishment. Consider these non-traditional businesses to get in on gaming!