It's that time of the year again – a day to relish in the fact that your only obligations are to watch hilarious commercials and stuff your face with the best junk food on planet earth. Oh, there's a football game to watch, too. Here are a few snack ideas to serve during the big game that are sure to score with your patrons.
Snack Stadium
Source: Life Tastes Like Food
This mock arena filled with literally every kind of snack you can think of has been a big hit in recent years, but we don't recommend this unless you can fully commit. The only reason you're creating a masterpiece such as this is for pure shock and awe. Feel free to add in staples such as pigs in a blanket, pizza rolls, anything with bacon, cheese curds, and mini sliders.
Is BBQ your specialty? Create a stadium with make-it-yourself sandwiches. Veggies more your style? With guacamole as the field and ranch dip as your end zones – you really can't go wrong.
Don't serve food at your establishment? You can always create a Bloody Mary stadium to surpass all others. And if you have too much time on your hands, check out this tutorial for a wooden snack stadium that you can reuse year after year.
Build Your Own…
Nacho Bar
Who doesn't love a table lined with mouthwatering toppings that you get to load on your favorite comfort foods? The easiest of these is probably the nacho bar: chips, variety of meat, cheese, beans, sour cream, salsa, guacamole, olives…the options are endless. Give people a plastic football helmet to load up their nachos and take home as a souvenir.
Baked Potato Bar
This spread can include bacon bits, onions and chives, sour cream, cheese, broccoli, and salsa. You can also vary the type of potato to include fries, tater tots or wedges.
Source: Celebrations at Home Blog
S'mores Bar
For those with a sweet tooth, a S'mores table will surely satisfy (as long as you provide some tasty options). Since Mother Nature can be indecisive in Illinois, the chances of building a fire outside are slim. To combat that issue, use Sternos as your source of heat (make sure they are in a container to avoid any accidents or injuries). Include the obvious (marshmallows, chocolate and graham crackers) but feel free to be creative with other ingredients. A Turtles Life For Me added cookies as an option instead of the graham crackers and different kinds of chocolate combinations for the filling.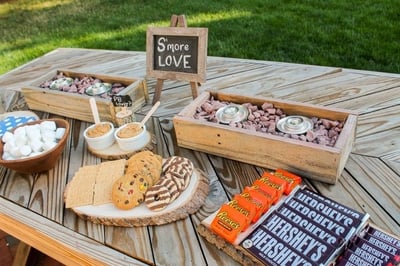 Source: A Turtle's Life For Me
Are you planning an event for the big game? Tell us what you plan on serving and be sure to tag us in any pictures you take!