On February 22nd, 2020, we celebrated the official end of the Million Dollar Giveaway by hosting our biggest party yet – the Million Dollar Giveaway Grand Prize Event!
Throughout the Million Dollar Giveaway in 2019, we gave away hundreds of Golden Tickets to lucky patrons who entered the Giveaway. Any Golden Ticket winner was welcomed to attend the event – where they had the chance to win the $100,000 Grand Prize! In addition to our lucky Golden Ticket winners, some of our Location Owners who participated in the Giveaway were welcomed to attend and were invited to bring along a VIP. While our location owners were not eligible to win a prize at the event, their VIP could win big money – one even walked away with $10,000!
The Million Dollar Giveaway Grand Prize Event was hosted at the Tinley Park Convention Center on a beautiful, late winter day. From the very beginning of the event, there were big smiles on the faces of Accel Entertainment staff and patrons alike. Before the big event kicked off, attendees were able to mingle in the Convention Center and learn more about what Accel Entertainment could offer. Patrons were able to try their luck at our Crack the Vault puzzle game, make free-to-play sports wagers on AE.Bet, and make lasting memories with our fun photo booth.
After everyone had a chance to explore and socialize, our party kicked off with a brief message from Accel Entertainment's CEO, Andy Rubenstein. Andy gave a heartfelt speech to the crowd and reminded them that without the unconditional support of our partner establishments and our loyal patrons, Accel Entertainment would not have found the success it has and would not be able to provide once-in-a-lifetime experiences such as these.
After Andy left the stage, the main event was ready to begin. First, there were several elimination rounds for the assembled VIPs. Ten VIPs were permitted to try their luck at opening one of ten identical briefcases. Five of the briefcases awarded their owners with $1,000 prizes, and one lucky winner named James from Rock Falls ended up with the briefcase that awarded him the $10,000 prize!
After our VIP winners left the stage, it was time to test the Golden Ticket winners' luck. Every Golden Ticket winner in attendance was guaranteed to walk away from the event with at least $200 from Accel Entertainment. After narrowing down the pool of Golden Ticket winners through a variety of fun games (including spin wheels, prize drums, and random balloon launches!), there were only fifteen Golden Ticket winners left on stage. Those who had been eliminated earlier walked away with prizes ranging from $200-$1,000. The fifteen remaining Golden Tickets were randomly assigned a briefcase that held the fate of their prizes within. Of the fifteen chosen, eleven were eliminated but received a prize of $5,000. The remaining four Golden Ticket winners faced off in a final competition on the giant Accel Prize Drop board!
The two finalists who dropped the two lowest numbers on the Prize Drop board ended up winning $15,000 as their prize. The final two contestants faced off head to head to see who could land their puck in the higher number for the Grand Prize of $100,000. Mary from Savanna ended up in second place with $30,000, and our biggest prize ever of $100,000 went to Dana from Dixon, Illinois!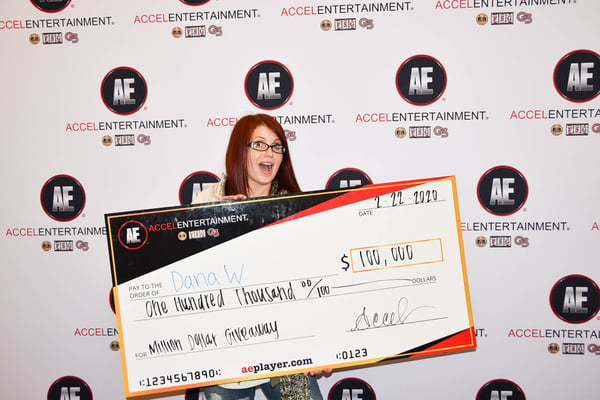 Once again, Accel Entertainment wants to thank everybody who came out to support us at the Million Dollar Giveaway Grand Prize Event – from our Accel staff members, to our partner establishment owners, and especially to our patrons. Without the support of loyal patrons like you all, the Million Dollar Giveaway would not have found the success it did, and we would not have been able to celebrate its end in such a fun way. Be sure to look out for more pictures and videos from the Million Dollar Giveaway Grand Prize Event and keep up with us on social media. In 2020, Accel Entertainment is hosting our most exciting Giveaway to date – the Mind Blowing Giveaway! Check out aeplayer.com to learn more about this thrilling new venture from Accel.