You've mastered Facebook. Maybe you've dabbled in Twitter. You might be thinking, why do I need another social media platform to reach customers of my small business?
Instagram is a visual-focused social platform where users post photos or videos. Users can follow other users and, similar to Facebook, interact with the app by scrolling through a feed of images and video posted by those they are following. Businesses who see success with Instagram need to determine how best to promote their brand visually – for a bar, restaurant or other retail store this might mean posting images of your food, beverages, patrons, or slot machines.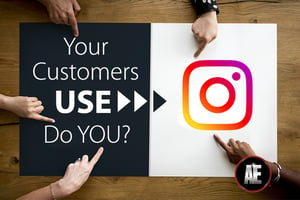 Instagram has 800 monthly active users and experts believe it has the
potent
ial to pass 1 billion monthly active users in 2018
. What's even crazier to think about - just over 70% of U.S. businesses are using Instagram (
Sprout Social, 2017
). That's a LOT of branding and marketing opportunity waiting at your fingertips.
Now that you're convinced of the importance for you to use Instagram for your business in the slot machine industry, we're going to break it down for you, just in case you aren't familiar with Instagram and the different ways it can be used.
How to Get Started with Instagram
Download the app from the iOs App Store, Google Play Store or Windows Phone Store. You can currently only upload a picture or video from a smartphone. Currently, Instagram requires a phone since most of its functions require the mobile app version.
Once the app is downloaded, launch it.

Add a Profile Photo. We recommend using a logo if you have one. If not, a picture of your business is acceptable.

Within the app, find settings, then scroll to "Switch to Business Account"
How Can I Use Instagram to Benefit My Small Business?
Instagram users have the option to follow accounts AND discover new accounts on the discovery page. This is a great opportunity to get noticed! Make sure to include relevant hashtags (e.g. #videoslots, #illinoisvideoslots) and use your geotag so you can be found in searches.
The more visually appealing the content is, the better! You can post videos up to a minute long and photos of anything you like (such as events, pics of your food/drinks, video gaming machines or amusements.)
You can also share content that your customers have posted at your location. This is called a "regram". There are other apps to assist in re-posting (such as Repost). As a best practice, make sure to ask permission for any "borrowed" content, no matter what platform it is and always credit the original account that posted it.
Finally, make sure that your efforts are attracting customers and the time you are spending is worth it (although it will take a few months to gain some traction). Here are some data points you should be analyzing:
Impressions & Reach
Stories Insight
Follower Demographics
Instagram Ad Analytics
This should give you all of the tools you need to get started in Instagram. Make sure to tag @AccelEntertain in your video gaming related posts!