When it comes to gambling, there's no place quite like Illinois. In states that have more than one kind of legal gambling, either casinos or a lottery tend to overwhelmingly dominate the others in terms of overall revenue, profits, taxes collected, and total number of participants.
That's not really the case in Illinois. Consider the largest three categories of gambling as measured by pre-tax revenue. In its 2017 fiscal year, the Illinois Lottery brought in $2.86 billion. Meanwhile, the state's 10 riverboat casinos made $1.41 billion in the 2017 calendar year, and its 6,000-plus licensed video gaming establishments collectively earned $1.3 billion over that same span. Taken together, the lottery accounts for slightly more than half the total amount, but it's not really putting the other two in the shade. (It's also not factoring in horse racing, the oldest form of legal gambling in the state.)
Moreover, video gaming is growing its share of the gambling pie in Illinois, with pre-tax revenue increasing by 42 percent from 2015 to 2017. Meanwhile, revenues for both the lottery and casinos have been largely flat over the past couple of years (but they aren't falling precipitously, either).
Given its unique circumstances, are there any other states that are comparable to Illinois when it comes to having that "balance" of legal gambling? As a matter of fact, after a little digging, we found out there are a couple that seemingly match up well. The first is Louisiana, which has several riverboat casinos, a lottery, betting on horse racing and more than 1,700 locations that offer "retail/convenience" video gaming.
Even so, there are a few important distinctions between the Bayou State and the Land of Lincoln. For one thing, Louisiana's lottery is much smaller in both revenues — approximately $450-500 million annually for the past three fiscal years — and in terms of its share of the overall gambling market. With around $600 million in annual revenues during the past five years, video gaming accounts for a somewhat larger share, but that segment has tapered off over that time span.
In Louisiana, casinos are the biggest moneymaker: They brought in gross revenues of $2.5 billion in 2016. It's worth noting that Louisiana has twice as many casinos as Illinois. These include not only riverboats, but also land-based casinos and "racinos" — that is, horse racing tracks that house large slot areas. So, despite the superficial similarities, Louisiana's casino-driven gambling market doesn't necessarily make for a great comparison.
Right now, the state that's arguably closest to Illinois when it comes to gambling is Oregon. It has casinos, video gaming, a lottery and even a little horse racing. None of these is really dominant, either, though the lottery is the sole billion-dollar earner among all categories. With respect to video gaming revenues, Oregon was the top state in the U.S. until 2015, when Illinois gained a slight edge, but it still took in a respectable $800 million that year.
However, even Oregon differs from Illinois in some important ways. For one thing, all of its nine casinos are tribal, not commercial. Also, those casinos' collective revenues have declined substantially for several years now. Many observers attribute this trend to consumers shifting their spending to the lottery or video gaming instead.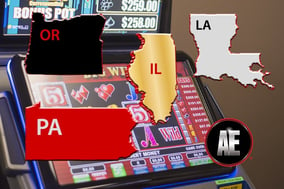 One state might be more comparable to Illinois within the next few years: Pennsylvania. In October 2017, the state legislature passed a sweeping bill that legalized video gaming terminals at truck stops, online gambling and the opening of a handful of "mini casinos," among other things. With video gaming in particular, Illinois was cited by advocates as a model for Pennsylvania to emulate, in part because the two states share similar demographic profiles.
It will be interesting to see if these new forms of gambling catch on in the Keystone State once they're rolled out, particularly since there's so much revenue being generated there already. Pennsylvania currently has both a popular lottery (more than $4 billion in total sales in the 2016-17 fiscal year), horse racing and a dozen casinos that raked in revenues of $3.2 billion in 2016. In fact, its commercial casinos made more that year than any other U.S. state except for Nevada. The multi-billion dollar question: Is there room for anything else?
Sources:
https://www.americangaming.org/
https://www.louisianalottery.com/static/files/docs/financial/LLCRP.pdf
https://www.oregonlottery.org/docs/default-source/default-document-library/fy-2016-oregon-lottery-cafr.pdf?sfvrsn=0
http://www.pamma.org/amusewp/wp-content/uploads/2015/07/Rep.-Mark-Mustio-Article.pdf
https://www.palottery.state.pa.us/About-PA-Lottery/Where-Does-The-Money-Go.aspx
http://www.golocalpdx.com/news/rebecca-randall-oregon-casinos-are-losing-revenue-how-are-tribes-impacted