Have you ever thought of promoting your business through an email marketing campaign? There are many benefits of email marketing, but there are some challenges as well. You should consider both the advantages and disadvantages before scheduling an email marketing campaign.
First, let's look at the benefits:
Accessible – It doesn't matter if you want to target large or small audiences, the content that you email out can be easily retrieved by whoever you are targeting, right from their phone!
Conversion – If you have a website, you should include a link in your email to a page on your site. Your customers can click on the link and will be redirected to your website. This is when call-to-actions play a key role in your emails. A call-to-action is an instruction to the audience designed to cause an immediate response, like a form submission for content, a sale inquiry, etc.
According to The Data & Marketing Association, email marketing had a median return-on-investment (ROI) of 122%, which was four times higher than other marketing formats like social media, direct mail, and paid search.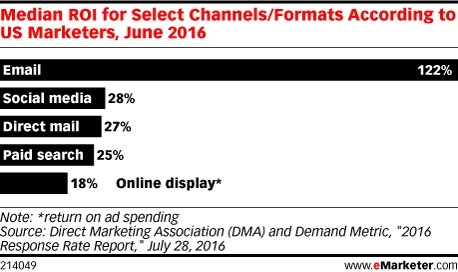 Source:
https://www.emarketer.com/Chart/Median-ROI-Select-ChannelsFormats-According-US-Marketers-June-2016/195123
Measurable –You can track how well each email is performing using web analytics software, thanks to advances in technology. We recommend the FREE Google Analytics tool to do so. You can easily see which emails have been effective throughout the campaign. This also allows you to see which emails need to be improved for the future.
If you use any kind of email tool to send your emails, there is usually built in analytics that can give you more insight to how your emails perform.
Cost-effective – The cost of email marketing is significantly lower than other methods of marketing. This is because no printing or media space costs are associated with an email marketing campaign. In fact, here are some FREE email marketing software tools that we recommend using.
Now, let's look at some challenges of email marketing:
Design Problems – This is a common issue when creating email marketing campaigns. What you may not realize is that each email needs to be designed so that it can be seen across many different devices and email providers. For instance, an email sent to Outlook users versus Gmail or Yahoo users may look completely different. PC and mobile versions can also look different. If you choose to start email marketing, a best practice is to always send out 'test emails' to make sure that your email is compatible with many of the popular email providers.
Competing Emails– This is another frequent issue when dealing with email marketing campaigns. There is a chance that your email may never get opened by your prospective customer, because so many companies use email marketing. One reason for this could be that the customer views the email as unimportant and quickly deletes it. This is why you should try experimenting with different subjects to try and make a mark on your customer.
It's also possible that your email may get caught in your customer's spam folder and it's never seen by them. Be sure to keep an eye on your email analytics to avoid too many emails not being delivered to your recipients.
Requires Time and Resources – This is a typical hurdle many businesses must overcome when pursuing an email marketing campaign. It truly requires a lot of time as you must create quality content that interests your target audience. This all stems from the subject line, body, copy, design, and the call-to-actions. When a business lacks the skills or resources, they often revert to outsourcing some of the items to get completed, which could end up costing some money. Upwork.com is a service in which you can hire freelancers to manage your email marketing (among many other marketing options).
If you decide to go through with an email marketing campaign and do it correctly, then it can be a very effective and easy tool to use for your business!