After a long pro football season filled with ups and downs, the final matchup is set between the Philadelphia Eagles and New England Patriots. These two teams will meet in Minneapolis on Sunday, Feb. 4, in Super Bowl LII. (That's Super Bowl 52 for those of you who don't do Roman numerals.)
As with every year, many people watching won't be all that interested in the gridiron action. Instead, they'll be tuning in to see which companies are offering up the most humorous, moving and mind-blowing ads. Like the teams taking the field, this is when advertisers step up and bring their "A" game. They have to, because a 30-second spot during the game costs more than $5 million on average. If those commercials don't catch viewers' interest, a huge opportunity will have been blown.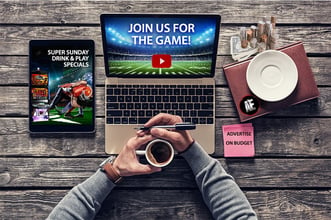 Fortunately, you don't have to invest millions of dollars to capitalize on the big game. If you'd like to get people to watch the game at your bar, restaurant or gaming parlor, you can produce and distribute a commercial without spending a great deal of time or money. Most phone cameras are high-quality enough to capture your footage, the "script" can be short and sweet, and you can post and share it online at little to no cost.
If you want to channel your inner David Ogilvy and create a commercial, here are a few tips:
Don't Say 'Super Bowl'
In general, the NFL frowns on anyone BUT them using the phrase "Super Bowl," the trademarked name of the game, in ads or commercials. The NFL annually threatens to take legal action against offenders, which in past years has included everyone from church groups to adult film stars. So, if you're making your own commercial in advance of Super Bowl LII, use a euphemism like "the big game" or "the championship."
Keep It Brief and Memorable
When watching an online video, the majority of people tend to tune out after one minute. You should shoot for getting your point across in 30-45 seconds, and try to deliver the most important information up front. Also, like the ads during the Super Bowl, you'll want to do something that helps your business stick in viewers' minds. Maybe it's a catchy jingle, offbeat humor, or a contest promotion (just make sure you're following the law if you plan on having a raffle). Whatever it is, tell them something besides, "Come to my bar during the big game." And you — or whoever is speaking on camera — needs to deliver the message with energy and enthusiasm.
Edit 'In Camera'
Unless you know a video production expert who will cut you a deal, chances are that you'll have to produce the commercial yourself using software like Apple's Final Cut or Windows Movie Creator. You can simplify that process greatly by minimizing the video editing required by capturing the whole thing in one or two simple, clean clips. Consider using a tripod for stabilizing, and perhaps even a smartphone dolly for tracking shots.
Ask Patrons to 'Star' in Your Ad
If you have customers who are "ready for their close-up," you might ask them if they'd like to be featured in your commercial. It could add an element of authenticity to the spot, and if they're in it, they could be more likely to share it with people they know once it's live. Make sure to have them sign a release giving you permission to use the footage on your website and/or social media.
Share Early and Often
When you post the commercial (probably to YouTube, and maybe Vimeo), be sure to include the right terms in your metadata — that is, the headline, description and tags associated with the video to make it more findable via search. Also, share the commercial via Facebook, Twitter, Instagram and any other social media sites where you have a following. And on Facebook, you might even run a paid promotion targeting likely customers in your area.
Be sure to get all this going in the week leading up to the game, if not before, as most viewers tend to make plans ahead of time. If you're debuting your ad on Super Bowl weekend, it will probably be too late.
Plan on creating a commercial and posting it to social media? Tag Accel so we can see your masterpiece!