TouchTunes
TouchTunes is the largest in-venue interactive music and entertainment platform, featured in over 60,000 bars and restaurants across North America. Our network supports a growing portfolio of location-based digital solutions that encourage social interactions through shared experiences.
The World's First Smart JukeBox
Virtuo is a showpiece of form and function that supports multiple entertainment services including the TouchTunes mobile app, PhotoBooth and Karaoke.
Pool Tables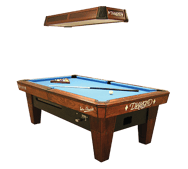 Diamond Billiards
In 1987, a group of dedicated pool players in Louisville, Kentucky formed a small company based on a simple but unique idea creating a table that would so surpass all others in quality and craftsmanship that it would become the standard for national and international tournament play. Achieving that goal had three strategic elements: (1) using the table in major tournament events, (2) seeking comments and advice from experienced, top professionals about the table's 'playability', and, (3) heeding those comments by adding features and making refinements that improved its performance. For example, various specifications which determine the degree of difficulty or 'tightness' of the pockets, such as the 'cut angle' and pocket size, were continuously changed to find just the 'right' configuration. Other features were refined in the same way.
Valley Pool Tables
For well over 50 years, Valley® has been the industry leader in the coin-operated pool table market. Valley's quality, reliability and durability give the operator the much-needed return on investment around which he can build his route, while Valley's playability makes our table "The Players Choice". For 18 straight years, the Best Coin-Operated Pool Table.
Dart League

Remote Darts Leagues are here! We sponsor leagues every night of the week.
Get Your Bar Involved with Illinois Darts or Join a League as a Player